John Hennessey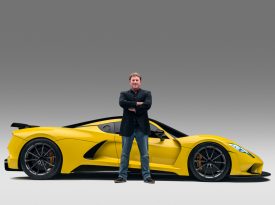 John Hennessey
Founder & CEO of Hennessey Special Vehicles, Hennessey Performance (HPE), Tuner School & Lonestar Motorsports Park.
John Hennessey was born with a passion for speed and fast, fun cars. John's early racing successes, driving a modified Mitsubishi 3000GT at venues such as the Pikes Peak Hill Climb, the Silver State Classic and the Bonneville Salt Flats (where he set a world record in his class), stoked the competitive fires and convinced him that this passion for racing could be turned into a successful business venture.
What started in 1991, modifying imports out of his garage, soon morphed into building 1000-horsepower twin-turbo Dodge Vipers that gained international recognition in car magazines such as Motor Trend, Car and Driver, Top Gear and Road and Track.
Today, Hennessey is one of the largest independent automotive tuners in the world and has built more than 10,000 specialty vehicles including mid-engine super cars, six-wheeled super trucks, modern muscle cars with 1,000+ hp and everything in between.
Hennessey sells vehicles around the world, including the U.S., Europe, Asia, South America and the Middle-East. His vision to be the top automotive tuner and builder in the U.S. has become a reality for Hennessey and he is viewed as an American icon of speed and the open road.
John founded a new company in 2017, Hennessey Special Vehicles, with the mission of designing and manufacturing the world's fastest cars. The company's first vehicle is the Venom F5 which debuted at the 2017 SEMA Show.
In addition to the Venom F5, Hennessey Performance (HPE) upgrades more than 500 vehicles per year at its Texas facility that also includes its own test track—on which they regularly test vehicles at speeds exceeding 150 mph.
Hennessey also created Tuner School, the only institution of its kind that gives the next generation of automotive enthusiasts a comprehensive, hands-on education in the art of making fast cars faster.
John lives in Houston, Texas, with his wife Hope and their five children.