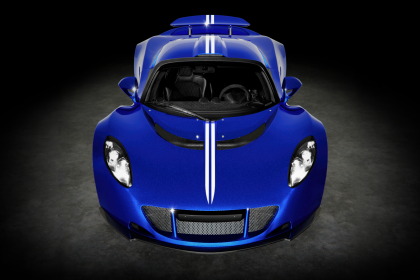 Hennessey Venom GT Final Edition Crosses the Finish Line
Production of America's 270 mph Supercar Has Officially Concluded
January 19, 2017—For immediate release
Sealy, Texas— Production of the world's fastest hardtop coupe and convertible has now officially concluded.  To commemorate the final Venom GT built, Hennessey Performance (HPE) is making a "Final Edition" of its 270+ mph supercar.  The Venom GT Final Edition is finished in a special "glacier blue" paint with white stripes and is powered by the same twin turbo 7.0 Liter V8 engine producing 1,451 bhp.  The Final Edition has already been sold at the price of $1.2 millon US Dollars.
Since 2010 Hennessey Performance has built twelve road-going Venom GT's along with one prototype for a total production of thirteen vehicles.  The first six Venoms were all hardtops and the last 6 were roadsters.  The first Venom GT Spyder built for Aerosmith's lead singer, Steven Tyler, is going up for auction this Friday evening, January 20th at Barrett-Jackson in Scottsdale, AZ.  100% of the proceeds of the sale will benefit Tyler's "Janie's Fund" charity.
Over the past six years of Venom GT production, power grew from 1,000 bhp to an astounding 1,451 bhp.  Combined with a curb weight of just 2,743 lbs the Hennessey Venom was the first supercar to attain and exceed the power to weight ratio of one to one.  Along the way, the Venom GT set several speed records including:
January 2013 – Guinness World Record for the fastest 2-seat sports car from
0-300 kmh in 13.61 seconds.
February 2014 – World's fastest 2-seat sports car by attaining a top speed of 270.4 mph on the Shuttle Landing Runway at NASA's Kennedy Space Center.
March 2016 – World's fastest open top vehicle by attaining a top speed of 265.6 mph at the United States Naval Air Station in Lemoore, California.

 

This record beat the previous record holder, the Bugatti Veyron Grand Sport Vitesse, by 11 mph.
"We've attained some pretty incredible achievements with the Venom GT," said company founder & CEO, John Hennessey.  "It was always my dream to build the fastest car and we did just that.  Our Venom GT retires as one of the fastest cars on the planet along with being one of the most exclusive.  I'm so grateful to our customers, employees, suppliers, and our technical partners, Pennzoil & Shell V-Power, who have helped make this special car a reality.  We look forward to introducing our next car, the Venom F5, sometime later this year."
###