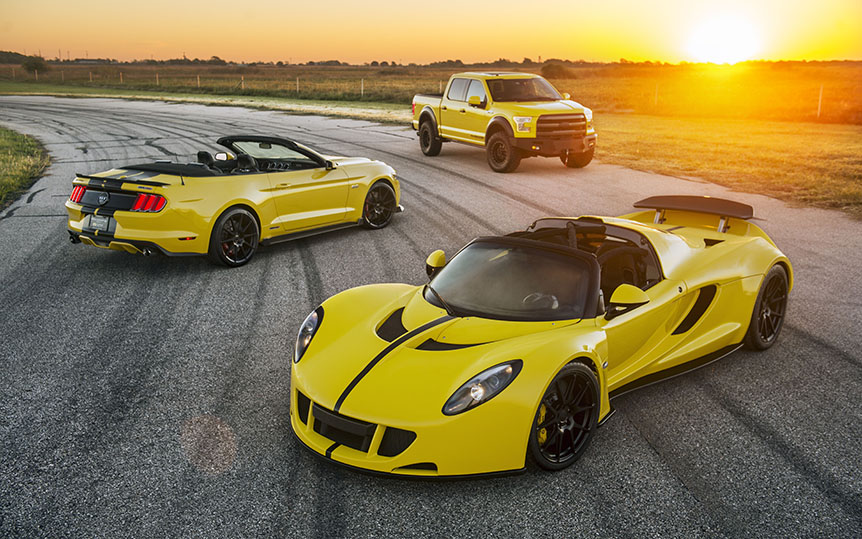 October 29, 2015—For immediate release
Hennessey to Unveil 2875 Horsepower at 2015 SEMA Show       
1451 HP Venom GT Spyder
774 HP HPE750 Supercharged Mustang Convertible
650 HP VelociRaptor 650 Supercharged Ford F-150 Truck
Las Vegas, Nevada—Hennessey Performance Engineering (HPE) will unveil a trifecta of speed and power at the 2015 SEMA Show on Tuesday, November 3rd at 10 am Pacific time at the Shell Pennzoil display – booth 60005 located near the main entrance of the Las Vegas convention center.
2016 Hennessey Venom GT
Leading the pack will be Hennessey's flagship hypercar, the Venom GT now boasting a maximum power output of 1451 bhp @ 7200 rpm, a gain of 207 bhp over the previous generation Venom which clocked a top speed of 270.4 mph at NASA's Kennedy Space Center in Florida in 2014.  Horsepower and torque are increased thanks to having the ability to run E85 Flexfuel which allows its 7.0L twin turbo V-8 engine to increase boost pressure from 19 psi to 26 psi.
"Being the fastest matters", said company founder and president, John Hennessey.  "We are intent on keeping the Venom as the fastest, best performing and most exciting hypercar on the road".
Sticky Michelin Pilot Sport Cup 2 tires will put the Venom's power to the ground via GPS-based traction control system.  Combined with a curb weight of just 2743 lbs (1244 kg) the Venom GT continues to offer an unmatched power to weight ratio.
Projected performance:
0-60 mph:            2.4 sec.
0-100 mph:         4.4 sec.
0-200 mph:         12.8 sec.
¼ mile: 9.4 sec. @ 167 mph
0-300 kph:           10.9 sec.
0-400 kph:           18.1 sec.
Top Speed:           280+ mph
"We only plan to produce a handful of Venom GT's in 2016 as we are also preparing for our next evolution, the Venom F5", said Hennessey.  "We plan to demonstrate our improved power and performance both in terms of straight line acceleration as well as road course handling and lap time performance".
Rounding out Hennessey's trio of vehicles at the 2015 SEMA Show are:
2016 HPE750 Supercharged Ford Mustang Convertible
774 HP 5.0L V8 engine
0-60 mph: 2 seconds
Supercharger system producing 9 psi boost
Hennessey CarbonAero carbon fiber front splitter, side sills, and rear lip spoiler
Hennessey H10 light weight wheels with Michelin Pilot Super Sport tires
Brembo racing brake upgrade, front and rear
The HPE750 Supercharged Mustang is the first and only 2015 Mustang to attain a verified top speed of 200 mph. One such car recently ran 207.9 mph on Jay Leno's Garage on CNBC.
2016 VelociRaptor 650 Supercharged Ford F-150 Pick-up truck
650 HP 5.0L V8 engine
0-60 mph: 9 seconds
Supercharger system producing 7 psi boost
Fox suspension upgrade
Heavy duty front and rear bumpers
20 inch Hennessey wheel and tire upgrade
Fender flares
Skid plates
Why wait for the 2017 Raptor when you can have a 650 HP Supercharged Hennessey VelociRaptor Ford F-150 truck now?
"I've been coming to the SEMA Show for the past 24 years and I'm more excited than ever to share our latest and greatest vehicles", said John.  "From wild to mild, our special cars and trucks continue to deliver a driving experience of the highest order".
###
About Hennessey® Performance
Established in 1991, Hennessey® Performance Engineering (HPE) builds and modifies more than 500 vehicles per year from a wide variety of brands that include Cadillac, Chevrolet and Ford. HPE also builds the world's fastest production vehicle, the Hennessey Venom GT, which has a verified top speed of over 270 mph. In addition, Hennessey® operates Tuner School, the world's first fully state-licensed school dedicated to teaching and training future performance vehicle tuners. HPE is also the only aftermarket tuner in North American with its own proving grounds, Lonestar Motorsports Park, whose IHRA-sanctioned quarter-mile drag strip is adjacent to the company's 40,000 square foot workshop and showroom situated on 143 acres along Interstate-10 near Houston.