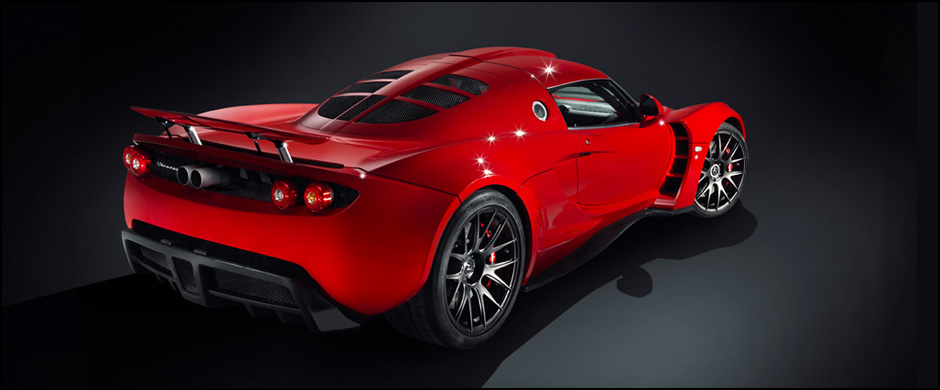 The Story | Specifications | How to Order
2014 Hennessey Venom GT Specifications
Performance
0-60 mph
0-100 mph
0-300 km/h
0-200 mph
¼ mile
Standing half mile
Standing mile
Verified speed
Est. top speed

2.7 sec.
5.6 sec.
13.63 sec. – Guinness World Record
14.51 sec. – Hypercar World Record
9.92 sec. @ 163 mph
206 mph
253 mph
270.49 mph
278 mph
---
Engine
Type
Valvetrain
Block/heads
Forced induction
Horsepower
Torque
Displacement
Compression ratio
Redline
Lubrication
Fuel injection

90-degree V8
overhead valve, 2 valves/cyl
iron /aluminum
twin precision ball bearing turbochargers
1244 bhp @ 6600 rpm (cockpit-adjustable to 800, 1000 & 1244 bhp)
1155 lb-ft @ 4400 rpm
7000 cc/427 cu. in.
9.2:1
7200 rpm
dry sump system
electronic sequential multi-port
---
Chassis
Layout
Body/frame
Brakes, f & r
Wheels
Tires
Steering
Suspension, f&r
Springs/shocks
Ride height

mid-longitudinal engine/rear drive
carbon fiber & composite/aluminum hybrid monocoque-space frame
15.0 x 1.3-in. carbon-ceramic rotors, 6-piston Brembo fixed calipers
Hennessey H10 forged monoblock, 9.5 x 19 front, 12.5 x 20 rear
Michelin Pilot Super Sport; 265/30ZR19 front, 345/30ZR20 rear
rack & pinion, 6-position variable electric assist
unequal-length tubular A-arms, anti-roll bars
Penske 2-way-adjustable coilovers
adjustable; range of 2.4 in.
---
Drivetrain
Transmission
Ricardo 6-Speed manual
Final Drive Ratio
3.36:1
1st gear/max speed
2nd gear/max speed
3rd gear/max speed
4th gear/max speed
5th gear/max speed
6th gear/max speed
2.61:1 69 mph
1.71:1 105 mph
1.23:1 146 mph
0.94:1 191mph
0.77:1 233 mph
0.63:1 278 mph
---
Dimensions & Capacities
Length
Width
Height
Wheelbase
Track, front
Track, rear
Ground clearance
Curb weight
Fuel capacity
Weight distribution, f/r %
(with driver & passenger)
183.7 in./4655 mm
77.2 in./1960 mm
44.7 in./1135 mm
110.2 in./2800 mm
63.5 in./1612 mm
63.2 in./1604 mm
3.5 in. to 5.9 in./90 mm to 150 mm
2743 lb/1244 kg
18.5 gal./70 liters
44/56
---
Optional Upgrades
• Michelin Pilot Sport Cup ZP Tires
• Bare Carbon Fiber Finish
• Right-Hand Drive
• Stefano Ricci Bespoke Interior
• Stereo System Designed by Steven Tyler of Aerosmith
---
Note: The Hennessey Venom GT design is based on the Lotus Elise / Exige. The Venom GT is created from a base Lotus Elise / Exige and utilizes components including but not limited to the roof, doors, side glass, windscreen, dash, cockpit, floorpan, HVAC system, wiper and headlights. Hennessey Performance and the Venom GT are not associated with Lotus Cars.